PAP-IMI therapy is a revolutionary sports injury treatment that works by stimulating the body's natural healing response.
PAP-IMI Sports Injury Clinics Results

90% of professional football players reduced recovery time from heavy sprains by more than 50%.
Source: International Congress on Sports Medicine 1999 http://www.panospappas.gr/OMIROS.htm
3 Time Ski World Champion achieves one of the greatest comebacks in sports history.
Herrmann Maier shocked the skiing world with an amazing super-G victory within one month of treatment after 18 month break due to a near fatal motorcycle accident.
Source: http://www.papimi.com/PAPIMI%20STUDIES/Hermann_Maier.pdf   https://en.wikipedia.org/wiki/Hermann_Maier
James "Lights Out" Toney defeats Evander Holyfield
Toney received 20 PAP-IMI sessions at a Canadian sports injury clinic before his bout with Holyfield.
Source: http://www.oasismedecineverte.com/documents/papimi_testimonials_canada.pdf
https://en.wikipedia.org/wiki/James_Toney
PAP-IMI Sports Injury Treatment
Papimi device is a pulsed magnetic field generator. The application of the Papimi pulsed magnetic field is not only limited to treatment / rehabilitation, but it also supports maintenance of health and wellness. In addition, it improves athletic performance, as it has been repeatedly confirmed by scientific research and thousands of users worldwide.
PAP-IMI therapy is an invaluable tool for any sports injury clinic.
Papimi nanopulses do not simply treat the symptoms but further affects the deeper source of health problems identified at the cellular level. The unique magnetic nanopulses, boost the transmembrane potential of the cells by increasing permeability to ions, and therefore improving energy supply to them. This results in the overall restoration and enchancement of the normal operation of the body.
The operation of the device is absolutely safe for both the patient and the operator. Moreover, the application is easy, painless, non-invasive, with hardly any restrictions, over the clothes and ofcourse without increasing the exposed tissues' temperature. It should be noted that after twenty years of use so far, no negative side effects have ever been reported.
Wide Range of Applications
The secret of success lies in the characteristics of the magnetic pulses emitted. More specifically, the pulses are very short in duration (instant) but carrying extremely high power. Thus, high penetration is achieved even in deeper tissues. In short, for all these reasons, the Papimi device offers impressive results in a wide range of applications, including: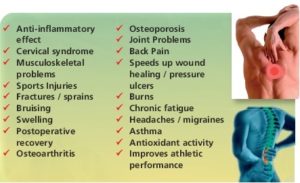 What do I do next?
Call us now on 9650-6520 to discuss how we can help with your Sports injury treatment.
Further Reading: